Pushing Away From Immigration, Marco Rubio Shifts To Backing Big Business And Job Creation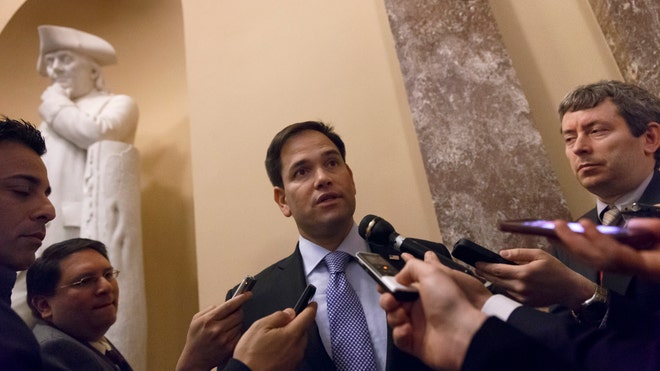 WASHINGTON (AP) – Pitching himself as an ally to Silicon Valley, presidential hopeful Sen. Marco Rubio proposed giving cellphone companies more access to government-controlled airwaves and other pro-business initiatives he said would create "thousands upon thousands of high-paying jobs."
In an appearance that detailed his "grand illustration of America's potential in the 21st century," the Florida Republican also pledged to defeat any efforts to limit access to the Internet and separately proposed allowing private businesses to work with government labs to develop new products. The business-friendly message comes as Rubio looks to shift focus away from a stalled bipartisan immigration overhaul he helped to craft and as he eyes potentially deep-pocketed donors.
"The world around us is changing quickly, and we have waited for far too long to change with it. We still have time to build the new American Century, but we do not have forever," Rubio said at an event organized through the Jack Kemp Foundation and hosted at Google's Washington headquarters.
Rubio's remarks come as he is considering a White House campaign in 2016. Pitching himself as an ally to Silicon Valley's tech titans could help him raise campaign donations from that industry, which so far have been lacking.
According to the Center for Responsive Politics, Internet and computer industries have given Rubio and his leadership committee about $182,000 since 2009. He badly trails in donations from the telecommunications industry with just $8,500.
Rubio's top backers to this point have been retirees, investment firms and conservative groups.
Should Rubio formally enter the still-forming contest for the Republican nomination, an affinity among Silicon Valley — and its Wall Street investors — could be handy in raising the needed millions to make it through the first few states.
Rubio's political brand has taken a hit since he helped negotiate a bipartisan immigration overhaul that cleared the Senate but stalled in the House. Conservatives grew wary of the measure, and the Republican-led House signaled the comprehensive Senate plan would go nowhere.
The tech industry pushed hard for the immigration overhaul, seeing millions of potential in-demand high-skilled employees.
Rubio didn't mention immigration during his remarks but was asked about it. He remained skeptical of suggestions that immigrants who are in the country illegally could stay in the United States permanently without any pathway to citizenship.
"How do we deal with the 12 million people who are here in a way that is realistic but in a way that is also responsible?" Rubio asked. "Are you willing to have 8 or 9 million people who are here permanently but are not citizens?"
"I don't think that's a good place for the country to be," Rubio said.
At this weekend's Conservative Political Action Conference, an early confab where the party's strongest activists huddle to hear from potential presidential contenders, Rubio finished seventh place in a straw poll. A year earlier, he finished second.
Now Rubio is trying to rehabilitate his image through a series of policy prescriptions. Monday's proposal was to make available wireless bandwidth currently controlled by the government to commercial wireless providers, such as AT&T or Sprint.
"Too much of the digital realm is blocked by unnecessary federal restrictions. The more spectrum and bandwidth we can open up to the private sector, the more jobs it can create," Rubio said, pledging to soon introduce a bill to permit that.
"The American economy will take off at a historic rate, it would create thousands upon thousands of high-paying jobs," he predicted.
Rubio also said the United States must formalize its opposition to a proposal that would give the United Nations a greater role in governing the Internet. Rubio said the proposal is foolhardy and runs counter to the United States' goal of spreading democracy and human rights.
Rubio's 40-minute slate of policy ideas included "an interstate energy pipeline system" to transport oil and natural gas from the fields to consumers. He also proposed ending the ban on crude oil exports that has been in place since the 1970s.
Republicans have been highly critical of the United States' energy policies under President Barack Obama, claiming he has fought a "war on coal" and delayed a decision on the Keystone XL Pipeline.
Rubio acknowledged that energy production is up 15 percent since 2005 before adding it could be higher.
"Selling some of our vast energy resources will lead to explosive growth and higher paying jobs here at home," he said.
And in a further nod to the tech sector, Rubio said he would continue to push bipartisan legislation that would make it easier for private companies to collaborate with government-funded labs at NASA, the Pentagon and the National Institutes of Health.
Such collaboration could be worth billions to companies.
"Our network of national labs has also long been a leading source of research," Rubio said. "But they currently lack the ability to work with the private sector to translate this into American jobs."
FOXNEWS.COM
http://latino.foxnews.com/latino/politics/2014/03/10/pushing-away-from-immigration-marco-rubio-shifts-to-backing-big-business-and/
'Bring Them Home' round three: 150 people seek entry into the U.S.
When Alabama passed what is considered one of the nation's toughest immigration laws in 2011, Theysy Victoria Diaz Perez was denied medical care for her pregnancy because she was undocumented.
She was left with no other choice but to return to Mexico to give birth to her baby. Now, two years after the U.S. Court of Appeals for the Eleventh Circuit struck down most of Alabama's HB 56, Diaz Perez wants to come back to the United States.
On Monday, the 21-year-old was among the estimated 150 people who crossed the U.S.-Mexico border in an attempt to come back and reunite with family members living in the U.S. They crossed the border through the Otay Mesa port of entry, which is located between San Diego and Tijuana, and asked U.S. officials to allow them to stay in the country.
By midday Monday, the first group made it through and was being processed at the Otay Mesa port of entry. On the U.S. side of the border, their family members waited anxiously for them to cross.
Most of the people participating in the border crossing had been living in the U.S. for years before they were deported for minor crimes, such as traffic violations. There are also some, like Diaz Perez, who faced certain circumstances that drove them to leave the U.S.
"These are all folks who call this country their home. They deserve to come back," Mohammad Abdollahi, one of the organizers of the border crossing, told Voxxi.
Abdollahi added that Diaz Perez is "a clear example of someone who deserves to come back."
Third 'Bring Them Home' action
The border crossing is part of the "Bring Them Home" campaign led by the National Immigrant Youth Alliance, an undocumented youth-led network of grassroots organizations. This is the third and largest border crossing organized by NIYA.
Last year, there were two border crossings organized by the "Bring Them Home" campaign — one with 9 Dreamers and another with 34 Dreamers. Most of them were released. Some requested humanitarian parole while others requested asylum, saying they feared persecution in Mexico.
A few of the Dreamers from the second group were deported. Among them was Rocio Hernandez Perez, who would've qualified Deferred Action for Childhood Arrivals but left the U.S. before the announcement of the federal program, which allows undocumented youth to stay and work in the U.S. for a renewable period of two years.
What's different about Monday's border crossing is that it includes parents and entire families, whereas the past two actions focused on Dreamers.
This border crossing also includes a handful of unaccompanied minors. Among them is a pair of sisters, a 9-year-old and 11-year-old, who were trafficked by their relatives in Mexico and are looking to reunite with their parents who live in the U.S.
Highlighting the impact of deportations
Abdollahi said the purpose of the "Bring Them Home" campaign is to highlight how President Barack Obama's immigration policies, as well as state-approved immigration laws, is resulting in families being separated because of deportations. Nearly 2 million people have been deported since Obama took office five years ago.
"We want there to be a pathway for folks that have been forced to leave the country or who have been deported to be able to come back to the United States," he said.
Enrique Morones, founder of Border Angels, was among the dozens of people who gathered on the U.S. side of the Otay Mesa port of entry to wait for the estimated 150 people to cross the border. They participated in a "coming out" action where people shared their stories of how deportations have impacted their families.
In an interview with Voxxi, Morones praised the Dreamers who are involved in the "Bring Them Home" campaign, saying: "I think that what they're doing is very brave. They've done things that I know I would not have the courage to do."
He also said he was "disappointed" with Obama for his record on deportations.
"I was surprised. I didn't think he would be doing that but he has," Morones said about Obama deporting more people per year than any other president. "I think he did that because he wanted to show that he was tough, and he wanted to get the Republicans to support him."
Monday's border crossing comes as pressure escalates for Obama to halt deportations.
VOXXI.COM
http://voxxi.com/2014/03/10/bring-them-home-150-people-entry-us/
Cancer Patient Who Blamed Obamacare For 'Unaffordable' Costs Will Actually Save Money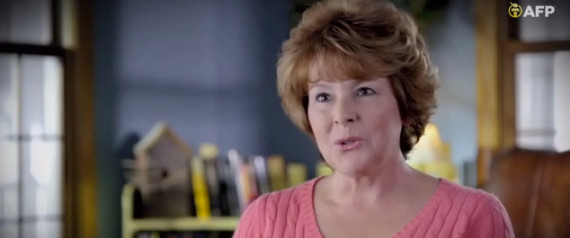 Americans for Prosperity, the conservative advocacy group backed by the Koch brothers, is running Obamacare attack ads featuring a cancer patient who claimed her treatments were "unaffordable" under the new health law. On Monday, The Detroit News reported that the patient will actually save more than $1,000 a year.
Julie Boonstra says in the anti-Obamacare ad that she was diagnosed with leukemia five years ago, and her health care plan was canceled when Obamacare went into effect.
"Now, the out-of-pocket costs are so high, it's unaffordable," she said.
Before her plan was canceled, Boonstra was paying a $1,100 monthly premium. That's $13,200 a year, without adding out-of-pocket expenses like co-pays and prescription drugs. But under her new plan, the Blue Cross Premier Gold, Boonstra's premiums are down to $571 a month, and out-of-pocket costs are capped at $5,100. That's a maximum annual expense of $11,952 a year.
According to The Detroit News, Boonstra said it "can't be true" that her new coverage is cheaper than her old.
"I personally do not believe that," Boonstra said.
The ads set out to target Rep. Gary Peters (D-Mich.), who faces former Michigan Secretary of State Terri Lynn Land (R) in a tight race for Michigan's U.S. Senate seat. Peters voted in favor of the Affordable Care Act.
The billionaire Koch brothers have spent millions in attack ads in Michigan and beyond, prompting Senate Majority Leader Harry Reid (D-Nev.) to take a public stand against their tactics. Reid accused the Kochs of "trying to buy America," saying Republicans are "addicted to Koch."
Boonstra told The Detroit News she had never been politically active before joining the anti-Obamacare campaign. The newspaper reported her ex-husband, Mark Boonstra, had served as chair of the Washtenaw County GOP, and was appointed by Gov. Rick Snyder (R) to the Michigan Court of Appeals in 2012.
POST YOUR OPINION: www.TheOpinionPoll.com
HUFFINGTONPOST.COM
http://www.huffingtonpost.com/2014/03/10/obamacare-attack-ad_n_4937650.html
Immigration Could Rock Republicans As Major Election Issue
If the apparent slow death of immigration legislation has any political repercussions this year, they probably will be felt in the subdivisions, shopping centers and ethnic eateries wrapped around Denver's southern end.
U.S. Rep. Mike Coffman represents this fast-changing district.
He's among a few vulnerable Republican members in line to be targeted by immigrant rights advocates if the House doesn't pass an immigration bill before the November election that would offer legal status to millions of people who entered the U.S. illegally or overstayed their visas.
The issue is no easy solution for Democrats needing to gain 17 seats to win back the House majority. Democratic campaign officials are focusing on about two dozen GOP-held seats where immigration could be a factor, but they rank only nine in the top tier of possible pickups.
Immigration advocates acknowledge their impact on House races this year is limited. Most Republicans hold safe seats in districts with relatively low numbers of immigrants. Coffman is one of the most vulnerable incumbents, but the three-term lawmaker's shift on the issue illustrates the difficulties Democrats may have.
Coffman was elected in 2008 to succeed immigration firebrand Rep. Tom Tancredo, R-Colo. Coffman endorsed Tancredo in the 2010 governor's race, which he lost, and initially backed measures such as barring U.S. citizenship to children whose parents were in the country without legal permission. Coffman also supported allowing English-only ballots in districts with large immigrant populations.
But his district was redrawn to include immigrant-heavy Aurora. After seeing fast-growing Hispanic and Asian populations overwhelmingly back Democrats in 2012, Coffman embraced citizenship for people brought to the U.S. illegally as children. He announced his new position in Spanish.
Coffman stopped short of backing a broader proposal to legalize more of the people in the country illegally, but he was one of the few House Republicans at a recent party meeting in Maryland to urge his colleagues to pursue an immigration bill.
Seeing major divisions within the GOP and saying that Republicans don't trust President Barack Obama to enforce the law, House Speaker John Boehner, R-Ohio, said last month that immigration legislation is unlikely to reach the House floor until after the election.
"The fact that immigration reform has disappeared kind of takes it off the table," said Floyd Ciruli, a nonpartisan Denver-based pollster. Coffman "is doing everything he can to make it a less salient issue," Ciruli said.
Obama took Coffman's district by 5 percentage points in 2012, while Coffman by only 2 points. One-fifth of the congressman's constituents are Hispanic, 10 percent are black, and political registration is evenly divided among Democrats, Republicans and independents.
"I'm still working for immigration reform," Coffman said in an interview.
Coffman says his change of heart on immigration dates from discussions with young people in the country illegally who cannot join the military or go to college.
"I really believe that the strongest expression of American citizenship is serving this country in uniform," said Coffman, a Marine Corps and Army veteran. He's proposed granting citizenship to any young person here illegally who enlists.
In addition to studying Spanish, Coffman has also spent time in his district's numerous other immigrant communities. Last month he visited an Ethiopian church. But he says he does not support an immigration bill passed by the Senate and prefers more steps to ensure the border is secure before granting legal status.
Some who question his sincerity note that last year Coffman voted to end Obama's policy of granting work permits to people brought to the country illegally when they were young. The step could have led to deporting some of the people Coffman wants to aid in his military bill. Coffman said he objected to Obama's putting the program in place on his own, and that he preferred Congress act.
"He's saying the right things and we welcome that," said Jesus Altamirano of the National Council of La Raza. "But he's telling us one thing and voting another."
Coffman remains a member of the Immigration Reform Caucus, a group founded by Tancredo that is steered by Republican congressmen who have been vocal opponents of letting those in the country illegally gain citizenship.
Support for a path to citizenship for those in the U.S. illegally is popular in Colorado. A recent poll showed 59 percent of the state's voters back it.
Republicans in other high-immigrant districts might be even more vulnerable. In California, U.S. Reps. Jeff Denham and David Valadao have signed on to a Democratic resolution urging House passage of the Senate's immigration bill. Denham announced his support on Spanish-language television.
Frank Sharry of the Washington-based immigration advocacy group America's Voice said the issue will be more formidable in 2016, when the presidential election is expected to bring out more Hispanic voters and there will be a clearer contrast on the issue.
But Sharry said that Republicans like Coffman are fair game. The message to immigrant and Hispanic voters, Sharry said, will be: "He's ineffective. He can't get his party to stop screwing you."
Izzy Santa of the Republican National Committee scoffed at the notion that immigration could be used against Coffman and others. "They're the members who are trying to move the issue forward," Santa said.
Republicans are going after Coffman's Democratic challenger, former Colorado House Speaker Andrew Romanoff, on the issue.
The National Republican Congressional Committee released a Web ad last year chiding Romanoff for helping pass legislation in 2006 that Democrats boasted was the toughest package against illegal immigration in the country. The proposals barred people here illegally from receiving nonemergency benefits, and were criticized by some Republicans for not being stringent enough.
Democrats are frustrated at the attack. They say Romanoff has long supported immigration reform.
POST YOUR OPINION: www.TheOpinionPoll.com
HUFFINGTONPOST.COM
http://www.huffingtonpost.com/2014/03/10/immigration-reform-2014_n_4933946.html?&ir=Latino%20Voices&utm_hp_ref=latino-voices
Uninsured Rate Drops, Thanks To Obamacare
With just three weeks left to sign up under President Barack Obama's health care law, a major survey tracking the rollout finds that the uninsured rate keeps going down.
The Gallup-Healthways Well-Being Index, released Monday, found that 15.9 percent of U.S. adults are uninsured thus far in 2014, down from 17.1 percent for the last three months — or calendar quarter— of 2013.
That translates roughly to 3 million to 4 million people getting coverage.
Gallup said the share of Americans who lack coverage is on track to drop to the lowest quarterly level it measured since 2008, before Obama took office.
The survey found that almost every major demographic group made progress getting health insurance, although Hispanics lagged.
With the highest uninsured rate of any racial or ethnic group, Latinos were expected to be major beneficiaries of the new health care law. They are a relatively young population and many are on the lower rungs of the middle class, holding down jobs that don't come with health insurance.
But the outreach effort to Hispanics got off to a stumbling start. The Spanish-language enrollment website, CuidadodeSalud.gov, was delayed due to technical problems. Its name sounds like a clunky translation from English: "Care of Health." A spot check of the Spanish site on Sunday showed parts of it still use a mix of Spanish and English to convey information, which can make insurance details even more confusing.
All indications point to lackluster Latino numbers, prompting the administration to make a special pitch as the end of open enrollment season approaches on March 31. The president was on Spanish-language television networks last week to raise awareness.
Gallup found the biggest drop in the uninsured rate was among households making less than $36,000 a year — a decline of 2.8 percentage points.
Among blacks, the uninsured rate was down by 2.6 percentage points. It declined by 1 percentage point among whites. But Latinos saw a drop of just eight-tenths of a percentage point.
The Gallup poll is considered authoritative because it combines the scope and depth found in government surveys with the timeliness of media sampling. Pollsters interview 500 people a day, 350 days a year. The latest health care results were based on more than 28,000 interviews, or about 28 times as many as in a standard national poll.
The survey can be an early indicator of broad shifts in society. Gallup saw a modest decline in the uninsured rate in January, and now two full months of data indicate a trend is taking shape.
Gallup said the drop coincides with the start of coverage under the health care law on Jan. 1. The major elements of the Affordable Care Act are now in effect. Virtually all Americans are now required to get covered or risk fines. Insurers can no longer turn away people with health problems. New state-based markets are offering taxpayer-subsidized private insurance to middle-class households.
Medicaid rolls are also growing, with about half the states agreeing to the program expansion in the law. Low-income people who qualify for Medicaid are able to sign up year-round, so the uninsured rate may keep going down even after the end of open enrollment for private coverage.
The administration is citing numbers that are far higher: about 4 million people signing up for private coverage, and 9 million for Medicaid.
But those statistics also include people who already had health insurance and switched to coverage offered under the law. The government numbers also include children, while Gallup focuses on adults.
The survey was based on telephone interviews from Jan. 2-Feb. 28 with a random sample of 28,396 adults aged 18 and older in all 50 states and the District of Columbia. For results based on the total national sample, the margin of error is plus or minus 1 percentage point, larger for subgroups.
POST YOUR OPINION: www.TheOpinionPoll.com
HUFFINGTONPOST.COM
http://www.huffingtonpost.com/2014/03/10/uninsured-rate-obamacare-gallup_n_4932718.html