Governor Can't Find A Single Latino In Pennsylvania To Work For Him
Pennsylvania Gov. Tom Corbett (R-PA) brushed away a question about Latinos working in his administration during a roundtable discussion at The Union League in Philadelphia, Pennsylvania on Friday, telling the moderator, "If you can find us one let me know":
MODERATOR: Do you have staff members that are Latino?
CORBETT: No, we do not have any staff members in there. If you can find us one, please let me know.
MODERATOR: I am sure that there are Latinos that…
CORBETT: Do any of you want to come to Harrisburg? See?!
"I represent every one of you, I've been elected by the people of Pennsylvania to make it better than I found it," Corbett said at the event. "We need to be able to develop a stronger relationship with all communities…we're in the process now of getting much more connected with everybody, that we did not have before."
In 2012, Corbett proclaimed Sept. 15 – Oct. 15 "Hispanic Heritage month," noting "I commend the many social and economic contributions of Latino-Hispanics in our state and celebrate the rich and diverse culture of Pennsylvania's fasting growing minority group," Corbett said and noted that Pennsylvania's 800,000 Latino residents represent approximately 6.8 percent of the overall population. A 2008 survey found that the Harrisburg-Carlisle metropolitan region "is home to more than 18,000 people of Hispanic or Latino origin," one third of whom live in the city of Harrisburg. The city is also home to the Latino Hispanic American Community Center.
Corbett has established a commission of Latino affairs, which his website describes as "the Commonwealth's advocate agency for its Latino community." "The GACLA makes recommendations to the Governor on policies, procedures and legislation that would affect the Latino community in Pennsylvania and serves as the Governor's liaison to Latinos in order to ensure that state government is accessible and accountable to the Latino community," it says.
THINKPROGRESS.ORG
http://thinkprogress.org/politics/2013/05/22/2048091/governor-cant-find-a-single-latino-in-pennsylvania-to-work-for-him/
Immigration Bill Heads To Senate Floor For Expected Heated, Long Debate
The Senate Judiciary Committee approved an extensive immigration bill Tuesday night, setting up an epic showdown on the Senate floor over legislation that would offer amnesty to 11 million people living in the U.S. illegally.
The committee approved the immigration measure by a vote of 13-5. The legislation is one of President Barack Obama's top domestic priorities — yet it also gives the Republican Party a chance to recast itself as more appealing to minorities.
Aside from offering citizenship, the most contentious issue in the bill, the legislation would create new routes for people to come legally to the U.S. to work at all skill levels, tighten border security and workplace enforcement.
The attempt to remake the nation's immigration system now heads to a full Senate debate, where tough battles are brewing on gay marriage, border security and other contentious issues, with the outcome impossible to predict.
Many involved still vividly recall the last time the Senate took up a major immigration bill, in 2007, beginning with high hopes only to see their efforts collapse on the Senate floor amid a public backlash and interest group defections.
Some expressed optimism for a better outcome this time around as the Judiciary Committee gave its bipartisan approval. Three Republicans — Sens. Lindsey Graham of South Carolina and Jeff Flake of Arizona, both authors of the bill, and Sen. Orrin Hatch of Utah — joined the 10 committee Democrats in supporting the measure.
"We've demonstrated to the United States Senate we can all work together, Republicans and Democrats," said the panel's chairman, Sen. Patrick Leahy, D-Vt.
"Now let's go out of this room and work together with the other members of the Senate, and with the other body (the House), and more importantly work with all Americans, and all those who wish to be Americans."
In a statement, Obama applauded the committee's action and said the bill was "largely consistent with the principles of common-sense reform I have proposed and meets the challenge of fixing our broken immigration system."
Sen. Marco Rubio (R-Fl), a member of the so-called bipartisan "Gang of Eight" group of senators who authored the bill, says he is looking forward to debate on the senate floor that will hopefully make real improvements to the bill.
"However, the reality is that work still remains to be done," Rubio said in a statement.
"The vast majority of Americans across the political spectrum are prepared to give millions of people living here today illegally the opportunity to earn legal status and, potentially, permanent residence and citizenship," added Rubio, "but only if they pay fines, pass background checks, don't receive federal benefits and wait in line behind everybody who followed the rules. And only if we secure the border."
Senate Majority Leader Harry Reid, D-Nev., said he would bring the legislation to the Senate floor early next month for a debate that some aides predicted could consume a month or more. The fate of immigration legislation in the House was even less clear, although it was due to receive a hearing in the House Judiciary Committee on Wednesday.
It was Leahy's 11th-hour decision to hold back on an amendment to extend immigration rights to same-sex married couples that cleared the way for the bill's approval.
Until Leahy began speaking on the issue to a hushed hearing room Tuesday evening, it wasn't clear how the matter, which had hovered over the three weeks of committee sessions to review the legislation, would play out.
Leahy had been under pressure from gay groups to offer the amendment, which would allow gay married Americans to sponsor their foreign-born spouses for green cards like straight married Americans can. But Republican supporters of the bill warned that including such a measure would cost their support. As the committee neared the end of its work, officials said Leahy had been informed that both the White House and Senate Democrats hoped he would not risk the destruction of months of painstaking work by putting the issue to a vote.
"I don't want to be the senator who asks people to choose between the love of their life and the love of their country," Leahy said, adding that he wanted to hear from others on the committee.
In response, he heard a chorus of pleas from the bill's supporters not to force a vote that they warned would lead to the collapse of Republican support and the bill's demise.
"I don't want to blow this bill apart," said Sen. Dianne Feinstein, D-Calif., the first to speak up.
"I believe in my heart of hearts that what you're doing is the right and just thing," said Sen. Richard Durbin, D-Ill. "But I believe this is the wrong moment, that this is the wrong bill."
Sens. Chuck Schumer, D-N.Y., and Al Franken, D-Minn., added their voices, and Leahy announced that, "with a heavy heart," he would withdraw his amendment.
Gay rights groups voiced outrage, and the issue is certain to re-emerge when the full Senate debates the legislation. But it is doubtful that sponsors can command the 60 votes that will be needed to make it part of the legislation.
In the hours leading to a final vote, the panel also agreed to a last-minute compromise covering an increase in the visa program for high-tech workers, a deal that brought Hatch over to the ranks of supporters.
Under the bill, the number of highly skilled workers admitted to the country would increase greatly, but there were also protections aimed at ensuring U.S. workers get the first shot at jobs, and high-tech companies objected to some of those.
Under the deal, companies in which foreign labor accounts for at least 15 percent of the skilled workforce would be subjected to tighter conditions than businesses less dependent on H-1B visa holders, and requirements on recruiting and hiring and firing of U.S. workers would be relaxed.
In defeat, opponents said they, too, wanted to overhaul immigration law, but not the way that drafters of the legislation had done.
Sen. Charles Grassley, R-Iowa, recalled that he had voted to give "amnesty" to those in the country illegally in 1986, the last time Congress passed major immigration legislation. He said that bill, like the current one, promised to crack down on illegal immigration, but said it had failed to do so.
"No one disputes that this bill is legalization first, enforcement later. And that's just unacceptable to me and to the American people," he said.
Sen. Ted Cruz (R-TX) also voted against the bill, citing concerns that the legislation does not effectively secure the border or improve legal immigration enough.
"Unfortunately, every Democrat on this committee voted against measures that would put real teeth into border security and that would have improved legal immigration," he said in a statement. "I believe in its current form, the bill will not become law, and if Congress cannot pass immigration reform, that is a terrible outcome."
FOXNEWS.COM
Read more: http://latino.foxnews.com/latino/politics/2013/05/22/immigration-bill-heads-to-senate-floor-for-expected-heated-long-debate/#ixzz2U31RNGJA
President Obama Reacts To Tornado Disaster
President Barack Obama spoke Tuesday on the damage from a massive tornado that ripped through the town of Moore, Oklahoma, on Monday.
"In an instant, neighborhoods were destroyed, dozens of people lost their live," Obama said.
"In some cases there will be enormous grief that has to be absorbed, but you will not travel that path alone. Your country will travel with you," Obama continued.
"We are a nation that stands with our fellow citizens as long as it takes," Obama said.
Obama noted that Oklahomans would "get everything that it needs right away" to help with tornado recovery. He recognized individuals who worked to protect others during the massive storm, which killed at least 24 people and destroyed a hospital and an elementary school.
"Our gratitude is with the teachers who gave their all to shield their children," Obama said.
Below, Obama's full remarks on the Oklahoma tornado:
Good morning, everybody. As we all know by now, a series of storms swept across the Plains yesterday, and one of the most destructive tornadoes in history sliced through the towns of Newcastle and Moore, Oklahoma. In an instant, neighborhoods were destroyed. Dozens of people lost their lives. Many more were injured. And among the victims were young children, trying to take shelter in the safest place they knew -- their school.
So our prayers are with the people of Oklahoma today.
Our gratitude is with the teachers who gave their all to shield their children; with the neighbors, first responders, and emergency personnel who raced to help as soon as the tornado passed; and with all of those who, as darkness fell, searched for survivors through the night.
As a nation, our full focus right now is on the urgent work of rescue, and the hard work of recovery and rebuilding that lies ahead.
Yesterday, I spoke with Governor Fallin to make it clear to Oklahomans that they would have all the resources that they need at their disposal. Last night, I issued a disaster declaration to expedite those resources, to support the Governor's team in the immediate response, and to offer direct assistance to folks who have suffered loss. I also just spoke with Mayor Lewis of Moore, Oklahoma, to ensure that he's getting everything that he needs.
I've met with Secretary Napolitano this morning and my Homeland Security and Counterterrorism Advisor, Lisa Monaco, to underscore that point that Oklahoma needs to get everything that it needs right away. The FEMA Administrator, Craig Fugate, is on his way to Oklahoma as we speak. FEMA staff was first deployed to Oklahoma's Emergency Operations Center on Sunday, as the state already was facing down the first wave of deadly tornadoes. Yesterday, FEMA activated Urban Search and Rescue Teams from Texas, Nebraska, and Tennessee to assist in the ongoing search and rescue efforts, and a mobile response unit to boost communications and logistical support.
So the people of Moore should know that their country will remain on the ground, there for them, beside them as long as it takes. For there are homes and schools to rebuild, businesses and hospitals to reopen, there are parents to console, first responders to comfort, and, of course, frightened children who will need our continued love and attention.
There are empty spaces where there used to be living rooms, and bedrooms, and classrooms, and, in time, we're going to need to refill those spaces with love and laughter and community.
\
We don't yet know the full extent of the damage from this week's storm. We don't know both the human and economic losses that may have occurred. We know that severe rumbling of weather, bad weather, through much of the country still continues, and we're also preparing for a hurricane season that begins next week.
But if there is hope to hold on to, not just in Oklahoma but around the country, it's the knowledge that the good people there and in Oklahoma are better prepared for this type of storm than most. And what they can be certain of is that Americans from every corner of this country will be right there with them, opening our homes, our hearts to those in need. Because we're a nation that stands with our fellow citizens as long as it takes. We've seen that spirit in Joplin, in Tuscaloosa; we saw that spirit in Boston and Breezy Point. And that's what the people of Oklahoma are going to need from us right now.
For those of you who want to help, you can go online right now to the American Red Cross, which is already on the ground in Moore. Already we've seen the University of Oklahoma announce that it will provide housing for displaced families. We've seen local churches and companies open their doors and their wallets. And last night, the people of Joplin dispatched a team to help the people of Moore.
So for all those who've been affected, we recognize that you face a long road ahead. In some cases, there will be enormous grief that has to be absorbed, but you will not travel that path alone. Your country will travel it with you, fueled by our faith in the Almighty and our faith in one another.
So our prayers are with the people of Oklahoma today. And we will back up those prayers with deeds for as long as it takes.
Thank you very much.
POST YOUR OPINION: www.TheOpinionPoll.com
HUFFINGTONPOST.COM
http://www.huffingtonpost.com/2013/05/21/obama-oklahoma-tornado-2013_n_3312267.html
Oklahoma Senators Repeatedly Opposed Disaster Relief Funds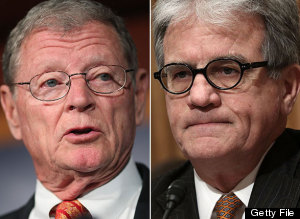 As frantic rescue missions continued Monday in Oklahoma following the catastrophic tornadoes that ripped through the state, it appeared increasingly likely that residents who lost homes and businesses would turn to the federal government for emergency disaster aid. That could put the state's two Republican senators in an awkward position.
Sens. Jim Inhofe and Tom Coburn, both Republicans, are fiscal hawks who have repeatedly voted against funding disaster aid for other parts of the country. They also have opposed increased funding for the Federal Emergency Management Agency (FEMA), which administers federal disaster relief.
Late last year, Inhofe and Coburn both backed a plan to slash disaster relief to victims of Hurricane Sandy. In a December press release, Coburn complained that the Sandy Relief bill contained "wasteful spending," and identified a series of items he objected to, including "$12.9 billion for future disaster mitigation activities and studies."
Coburn spokesman John Hart on Monday evening confirmed that the senator will seek to ensure that any additional funding for tornado disaster relief in Oklahoma be offset by cuts to federal spending elsewhere in the budget. "That's always been his position [to offset disaster aid]," Hart said. "He supported offsets to the bill funding the OKC bombing recovery effort." Those offsets were achieved in 1995 by tapping federal funds that had not yet been appropriated.
In 2011, both senators opposed legislation that would have granted necessary funding for FEMA when the agency was set to run out of money. Sending the funds to FEMA would have been "unconscionable," Coburn said at the time.
Hart said Coburn had "never made parochial calculations" about Oklahoma's disproportionate share of disaster funds, "as his voting record and campaign against earmarks demonstrates." Hart added that Coburn, "makes no apologies for voting against disaster aid bills that are often poorly conceived and used to finance priorities that have little to do with disasters."
A representative for Inhofe could not immediately be reached for comment. Inhofe earlier tweeted: "The devastation in Oklahoma is heartbreaking. Please join me and #PrayforOklahoma. Spread the word."
Coburn also put out a message on Twitter, writing, "My thoughts and prayers are with those in Oklahoma affected by the tragic tornado outbreak."
Oklahoma currently ranks third in the nation after Texas and California in terms of total federal disaster and fire declarations, which kickstart the federal emergency relief funding process. Just last month, President Barack Obama signed a disaster declaration for the state following severe snowstorms.
And despite their voting record on disaster aid for other states, both Coburn and Inhofe appear to sing a different tune when it comes to such funding for Oklahoma.
In January of 2007, Coburn urged federal officials to speed disaster relief aid after the state faced a major ice storm.
A year later, in 2008, Inhofe lauded the fact that emergency relief from the Department of Housing and Urban Development would be given to 24 Oklahoma counties. "The impact of severe weather has been truly devastating to many Oklahoma communities across the state. I am pleased that the people whose lives have been affected by disastrous weather are getting much-needed federal assistance," he said at the time.
The cost of the recovery effort for this week's tornadoes is likely to be high. After a spate of tornadoes in the state in 1999, Oklahomans requested and received $67.8 million in federal relief funds.
POST YOUR OPINION: www.TheOpinionPoll.com
HUFFINGTONPOST.COM
http://www.huffingtonpost.com/2013/05/20/oklahoma-senators-disaster-relief_n_3309234.html
Harvard Students Demand Investigation Into Thesis About Latino Immigrants' IQ
Outraged Harvard students have delivered a petition with over 1,200 signatures to the university's president demanding an investigation into how a doctoral thesis, arguing that Latino immigrants had lower IQ's than non-Latino whites, came to be approved in the first place.
The petition also calls on banning future racial superiority research at Harvard University.
The thesis, "IQ and Immigration Policy" was written in 2009 by former Heritage Foundation policy analyst Jason Richwine, who last week resigned to his post amid disclosures of the controversial dissertation.
In the paper he also recommends the U.S. adopt an immigration policy based on IQ, a score derived from a standardized test designed to assess intelligence.
Richwine went on to say only immigrants with the highest IQs should be let in and that Hispanics, their children and grandchildren were destined to lesser intellect.
Richwine's dissertation said, "Today's immigrants are not as intelligent on average as white natives. The IQ difference between the two groups is large enough to have substantial negative effects on the economy and on American society."
"The upside is that calling attention to this problem may help focus policy on attracting a different kind of immigrant - the poor with great potential," he wrote.
Richwine is unapologetic for his comments, and that has only served to fuel the Harvard student body, which delivered a petition last week to president Drew Faust and David Ellwood, the dean of the John F. Kennedy School of Government.
"One of the many mischaracterizations of my dissertation is that I support an ethnicity-based immigration policy," he said to the Boston Globe on Friday
. "I do not. I endorse treating everyone as individuals. That's clear throughout the text."
The new petition was coupled with a letter condemning Richwine's research as "racist claims"
that are "unfit for Harvard Kennedy School and Harvard University as a whole."
The letter was signed by over 23 student groups including the HKS Latino Caucas, Harvard Journal of Hispanic Policy, HKS Latin American Caucus, the Black Student Union at the Harvard Kennedy School and the Women's Policy journal.
"We believe in academic freedom as it is crucial to the functioning of a university," the letter said. "However, we also believe that putting forth claims of racial superiority based on inherent genetic advantage to be on par with those who have used pseudo-science throughout history to justify state-based hate."
Richwine said the move by the Harvard student body could set a dangerous precedent.
"This is a really worrisome idea here, that the students want to dictate what scholarship will be allowed at Harvard University," an unemployed Richwine told The Boston Globe on Friday.
Ellwood, the Kennedy School dean, urged scholars and critics to review Richwine's work carefully before engaging in a reasoned discussion about it.
"All PhD dissertations are reviewed by a committee of scholars," Ellwood said in a statement. "In this case, the committee consisted of three highly respected and discerning faculty members who come from diverse intellectual traditions."
Richwine's work was backed by George Borjas, the chairman of the Kennedy School's Standing Committee on Public Policy, which accepted Richwine's research and called it "sound" in an interview with The Citizen.
Last week was supposed to be a positive one for Richwine, at least from his view and that of the Heritage Foundation, which had just released a report by the analyst and Robert Rector, a senior research fellow at the organization, that said the price tag of comprehensive immigration reform would be roughly $6.3 trillion.
The think tank released the report as hearings were beginning in the Senate on a bipartisan bill and some 300 amendments regarding an overhaul of the country's immigration system.
One of the most objectionable parts of the bill for conservatives calls for allowing millions of undocumented immigrants to be able to obtain legal status, first on a provisional basis, and eventually permanently.
"The Harvard paper is not a work product of the Heritage Foundation," according to a statement on the foundation's blog. "Its findings do not reflect the positions of the Heritage Foundation or the conclusions of our study on the cost of amnesty to U.S. taxpayers, as race and ethnicity are not part of Heritage immigration policy recommendations."
FOXNEWS.COM
Read more: http://latino.foxnews.com/latino/news/2013/05/20/harvard-students-demand-investigation-into-thesis-about-latino-immigrants-iq/#ixzz2Tw6OwLjj