Washington's budget dysfunction: 5 ways it can affect your money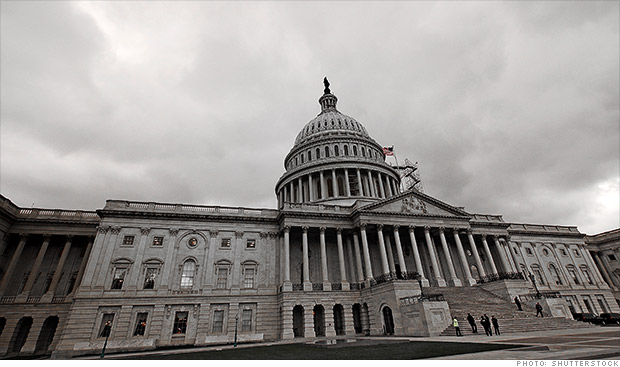 As usual, Congress has left all the year's major fiscal decisions to the last minute.
There's still a budget deal to be done and a farm bill to be passed, and there's a string of measures set to expire unless lawmakers act to extend them.
The issues at hand don't pose nearly the economic risk the fiscal cliff did at the end of 2012.
But for the unemployed, doctors, defense contractors and milk-buying parents everywhere, there's reason to be frustrated with lawmakers.
1. Milk prices could double: Lawmakers must pass a farm bill to ensure that dairy farmers continue to get federal subsidies by January 1. If they don't, the cost of a gallon of milk could soar to $7 or more. People are calling it the "dairy cliff."
2. Unemployment benefits could run out: An estimated 1.3 million long-term unemployed people will be cut off from federal jobless benefits by the end of the year. Another 850,000 could fall off the rolls within the first three months of 2014, according to the National Employment Law Project.
That's unless Congress chooses to extend, for the 12th time since 2008, the federally funded Emergency Unemployment Compensation program. That program provides benefits once a jobless worker's state benefits expire.
Democrats and the White House have been pushing to extend the benefits. But Republicans have objected to doing so, citing further cost among the reasons.
The Congressional Budget Office estimates that a one-year extension would cost $26 billion but boost economic growth by 0.2 percentage points next year and increase jobs by 200,000. 3. Doctors' pay likely to remain a question mark: Come January 1, reimbursements to doctors who see Medicare patients are slated to be slashed by more than 24%. Unless, that is, Congress chooses to renew the so-called "doc fix," which averts scheduled cuts in doctor pay.
Lawmakers have extended it many times in the past decade. And they have said they would like to pass a permanent fix to the "sustainable growth rate formula," which helps determine the reimbursement levels. But they haven't done so yet, in part because figuring out how to pay for a permanent fix is difficult.
There's a good chance, however, that they will pass a short-term extension of perhaps three months, analysts say. That would give lawmakers time to figure out what to do long term.
But if they do opt for a short-term fix, uncertainty for doctors will persist for months to come.
4. Government could risk another shutdown: Everyone is saying that no one wants a repeat of October, when the federal government was partially shut down because some conservative Republicans refused to vote for government funding unless Obamacare was delayed.
If lawmakers haven't agreed to a one- or two- year funding bill by January 15, they are expected to pass a short-term funding bill to buy more time to reach a deal.
Then again, a lot of people thought a shutdown in October would never happen. So it's folly to entirely rule out the unthinkable. This is, after all, Congress we're talking about.
5. More federal cuts could be on the way: Everything depends on what deal, if any, budget negotiators can cut to replace some or all of the automatic funding cuts known as the sequester.
If there's no deal, funding will be cut by another $20 billion or so from fiscal 2013 levels, and the bulk of those new reductions would hit defense programs and defense contractors, some of which have recently announced job cuts.
But even for domestic programs, which were affected most by the 2013 sequester, there may be a shifting of funds in projects or services to meet the permanently lowered spending cap that would be in place absent a budget deal.
Or, if negotiators do agree to replace some of the 2014 sequester, they may choose to pay for it by raising airline passenger security fees and other so-called user fees, among various measures.
CNN.MONEY.COM
http://money.cnn.com/2013/12/06/news/economy/washington-budget/index.html?iid=Lead
Poll: Immigration Ads Sour Latinos on GOP
Latino voters exposed to AFL-CIO immigration reform advertisements are more likely to hold a negative view of the GOP and consider immigration reform a pressing issue, according to a new Latino Decisions poll commissioned by the labor organization.
The AFL-CIO ran Spanish-language ads in Denver, Orlando and Atlanta last month and then polled 600 viewers in those media markets. They also posed the same questions to 400 Spanish speakers in media markets where the ads did not air.
Respondents who saw the ads were nearly twice as likely to think that the Republican Party doesn't care about "people like me." And more than twice as many answered that "respects Hispanic community" does "not at all" describe the party today. The GOP was seen as the "anti-immigrant party" by 42 percent of respondents who saw the ads; only 22 percent of those who hadn't seen them held the same position.
The poll also showed that respondents in the media markets where ads ran would be more likely blame Republicans if immigration reform fails in 2013, 73 percent to 44 percent. For reform in 2014, only 59 percent of those who saw ads would blame the GOP for failure, while 32 percent who didn't see them would assign the same blame.
The survey suggests that shifted voter perceptions could have adverse electoral effects for Republican candidates. Nearly 70 percent of Latinos who saw the ads said they would, or were likely to, vote for a generic Democrat in 2014. Only 48 percent of Latinos who didn't see the ads would do the same. A report from Latino Decisions accompanying the survey called this "perhaps the most significant finding in the poll."
While the poll appears to be worrisome for the GOP, it is unclear how long the impression made by the advertisements will last (or how respondents would weigh counter-messaging from the Republican Party).
The poll of 1,000 Latino registered voters who regularly watch Spanish-language TV was conducted Nov. 22-30 and has an overall margin of error of plus or minus 2.3 percentage points.
REALCLEARPOLITICS.COM
http://www.realclearpolitics.com/articles/2013/12/05/poll_immigration_ads_sour_latinos_on_gop_120862.html#ixzz2mh3UAOGW
The New Front In The Gun Control War Is Your Local Shopping Mall One evening this past August, an employee at a Staples office supply store in a Wake Forest, N.C., strip mall heard a bang, and then a woman's cry for help.
The worker and another shopper rounded a corner to discover Danielle Hayes, 29, bleeding from her hand. The pistol she kept in her purse had accidentally discharged as she was trying to keep it away from her 2-year-old son, Hayes said.
Although police initially said they would charge Hayes for failing to secure a firearm from a minor, a misdemeanor under state law, they didn't bring charges, and the story disappeared from local news outlets.
But 600 miles away in Indianapolis, a newly minted gun-control activist took note. Shannon Watts, founder of the organization Moms Demand Action for Gun Sense, saw the Staples shooting as an opportunity to rally supporters to a new fight.
Her goal: pressuring businesses, especially national chains, to ban guns. "Businesses have to make a choice," Watts said in a recent interview. "They can side with the gun lobby, or they can choose to protect their customers."
Welcome to the newest front in the battle over the role of guns in American life. In recent months, gun-control advocates and pro-gun forces have squared off in an increasingly heated contest over the right to carry firearms into stores and restaurants, drawing businesses into a conflict that they have diligently tried to avoid.
For leaders on both sides, the fight offers the opportunity to keep supporters energized after a federal gun-control bill was effectively mothballed.
Pro-gun forces say they have the advantage. For years, they've lobbied efforts to roll back local and state gun restrictions. Thanks to their efforts, it's now easier than ever before to legally carry a firearm, both openly and concealed, in many public places.
North Carolina, for example, just lifted prohibitions against carrying concealed weapons inside bars and restaurants, a move that was backed by the legislative arm of the National Rifle Association.
In targeting businesses directly, Moms Demand Action is trying to circumvent the legislative process, which with a few exceptions rarely yields positive results for gun-control activists. By Watts's account, the group has already had a major win: Starbucks in September asked its customers to stop carrying firearms into the coffee chain's 10,000 stores.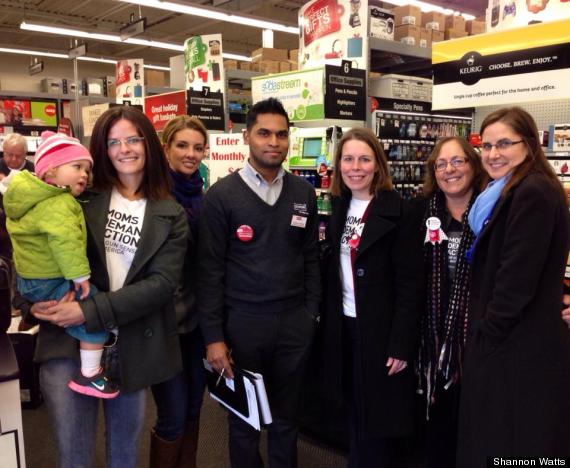 After that victory, Watts decided to turn up the pressure on Staples. The company fit the right profile: a recent shooting by an irresponsible gun owner to serve as a catalyst, stores in nearly every state and a business model that is dependent on moms. School supply sales account for a significant portion of Staples' revenues.
Most businesses view the prospect of being dragged into the contentious fight on guns -- and of being told they must choose sides -- with something like horror.
"It is a classic lose-lose proposition from a perception point of view," said Dorothy Crenshaw, who runs a public relations agency in Manhattan that has worked with companies like Verizon Wireless and Sharp. "Retailers and restaurateurs want to avoid the issue. They are so afraid of special-interest groups, so afraid of the reaction of one side or another, even if it is a fringe group."
Watts said she has "no sympathy" for businesses that don't "do the right thing." She said companies already make decisions about what they do and do not allow in the name of public safety -- no smoking, for example -- and as such should have no issue with also banning guns.
Advocates on both sides claim they have the economic clout to get what they want. In less than a year, Moms Demand Action has grown to include 120,000 members, with chapters in every state, Watts said. The organization, which models itself after Mothers Against Drunk Driving, says its members will boycott businesses that don't choose its side.
"Moms make 80 percent of spending decisions" for families, Watts said, citing a
At the ground level, its not clear that either side wields as much influence as it claims.
In interviews, a half dozen North Carolina restaurant and bar owners who have posted "no guns" signs at their establishments said they made the decision on practical grounds -- not because they were pressured to do so.
"It is a stupid idea to mix guns and alcohol," said Svend Deal, the owner of Sir Edmond Halley's, a pub in Charlotte. Even if someone carrying a gun in the bar isn't drinking -- a requirement under the law -- "other people might be using poor judgment," he said.
"The last thing I want is an altercation that involves my bartender, some drunk people and someone with a gun, all in close quarters," Deal said.
Kate Carroll and her husband recently put up two "no firearms allowed" signs at their restaurant, the Radius Pizzeria & Pub in Hillsborough, N.C., one on the front door and one in the garden.
"It is a sad state of affairs that it has come to this, but we have to protect ourselves," Carroll said. "If someone kills someone we can be sued."
Carroll said customers have voiced different opinions about the signs -- some have asked, "What have you got against guns?" -- but none has threatened to stop eating there.
Deal said he's also heard a few complaints, mostly in the form of emails that arrived after a story ran on a local television station about the gun law and the sign at Sir Edmond Halley's.
"A couple of whack-jobs wrote to say that 'me and my 1,000 friends won't come in,'" he said. Deal's response: "Good and please don't."
Others, though, appear to have succumbed to pressure to stay firearm-friendly. In November, the manager of a Charlotte Brixx Wood Fired Pizza -- a regional pizza and craft beer restaurant chain -- posted a "no guns" sign on the door, only to pull it down a few days later.
The company declined to discuss the decision to remove the sign, but pro-gun activists who had complained took credit for the about-face.
In mid-November, while in Washington, D.C., for a conference, Watts and a few volunteers decided to drop in on the Staples store in Arlington, Va., just across the Potomac River.
They chose the store because of its location. Under Virginia law, gun owners may openly carry handguns inside retail stores and other businesses, unless the business posts a sign warning that firearms aren't allowed.
In Virginia, as in many other states, "open carrying" is a fashionable pastime among a certain set. In online forums, gun enthusiasts trade stories about traipsing around big chain stores with their firearms proudly displayed.
Gun control advocates decry this practice as unsafe, and frightening. When the Moms Demand Action women approached the manager of the Arlington Staples, he was instantly receptive to their mission, they claim.
"I don't want guns in my store," he said, according to the advocates. He also posed for a photo with the women.
The group posted the photo to its Facebook page, along with a message: "IT'S WORKING," the activists wrote. "He will put up signs saying no guns are allowed in his store!"
The reaction was immediate, and nasty. Pro-gun forces swamped social media -- including Staples' own Facebook page -- with demands that the store recant.
"I'll never set foot in a Staples again," declared one gun-group supporter.
Another commenter who had engaged in an online argument with a supporter of the moms' group suggested that she "go make me a sandwich already."
Gun-group backers also began calling Staples to voice their opposition to any restrictions on their right to carry weapons into stores. Some reported that the company had told them that the Moms Demand Action post was bogus -- that the Staples store in Arlington had not enacted a no-gun policy.
This revelation fueled even more outrage. The creator of a Facebook page called "Hypocrisy and Stupidity of Gun Control Advocates," which has nearly 30,000 followers, called the leaders of the gun control group "lying sacks of shit."
When contacted by The Huffington Post, a customer service representative at the Arlington store said the manager was not available for interviews.
A spokesman at Staples' head office in Framingham, Mass., told HuffPost that the company has "no pinpoint policy" regarding guns in its stores -- at the Arlington location or anywhere else. The spokesman said managers do not have the authority "to make political decisions," such as banning guns. He said the confusion owes to "misinformation" communicated over "social media," but declined to say whether guns are welcome in Staples stores.
Watts said she was blindsided by the company's apparent change in position. She said she was told that decisions about whether to make stores gun-free are up to local managers, and claims the office supply chain is backtracking on its policy in response to hollow threats from gun activists.
As evidence of the chain's inconsistency on the subject, Watts forwarded a recent photo of a Staples in Goodyear, Ariz., outside of Phoenix. A decal on the door pictures a gun with a black line through it and reads "no firearms allowed."
The company did not respond to a request for comment about the sign.
Watts said she's been distressed by the personal nature of some of the attacks on her and her group by pro-gun forces, but that some kind of escalation is ultimately the goal of the Staples campaign. By posting a particular photo to Facebook, her group is counting on a response from pro-gun people -- ideally, a rally
It was just such a planned public display of force at a Starbucks in Newtown, Conn., that prompted the company to ask customers to stop bringing guns inside its stores, according to a spokesman.
The Staples fight hasn't attracted as much press coverage, but the pro-gun groups are paying attention. Over the weekend, members of an open-carry group in Keller, Texas, posed for a photo just outside a strip mall parking lot. A Staples sign is clearly featured in the shot.
"Any time we pick a company, the open-carry people focus on the same company," Watts said. "The reality is that Staples is going to have to make a decision."
One of the organizers of the event, Michelle Southwick, said the inclusion of the sign in the photo is purely coincidental. Groups like Moms Demand Action, she said, are trying to pick a fight.
"We respect all property rights," she said. "It is the opposition that is harassing the stores that support the Second Amendment rights of individuals."
HUFFINGTONPOST.COM
http://www.huffingtonpost.com/2013/12/05/guns-in-stores-staples_n_4378996.html?ir=Business&utm_campaign=120513&utm_medium=email&utm_source=Alert-business&utm_content=Title
Here's Why Fast Food Workers Are Striking This Week Fast food workers earn a median wage of $8.90 per hour.
That's slightly more than the federal minimum wage of $7.25 per hour, but it's way less than most people can live on.
In fact, it takes a wage of $10.20 per hour to afford basic expenses like rent, food and utilities in America's cheapest place to live, according to an analysis from Wider Opportunities for Women. Nationally it takes $14.17 per hour to survive.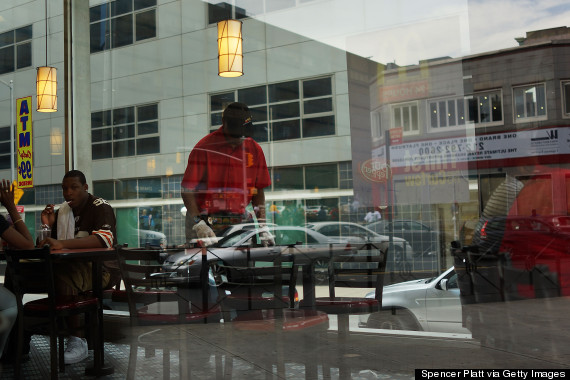 Companies admit it: Many fast food jobs don't pay enough for workers to survive on. McDonald's went as far as suggesting workers take a second job and sign up for food stamps.
For their part, fast food representatives say the eateries, which are largely run by franchisees, operate on thin profit margins, making it difficult for them to raise worker pay. In addition, they note that entry-level jobs are meant to be just that, and that workers have many opportunities for advancement.
"The restaurant industry has been one of the few industries that continued to create jobs during the recession and economic recovery, offering opportunities to hundreds of thousands of new workers over the past couple of years," Scott DeFife, the National Restaurant Association's vice president for government affairs, wrote in an emailed statement.
That's true. The fast food industry has created jobs at a faster clip than the rest of the economy for the past 14 years. But it's also because not many high-paying jobs are available: Half of all jobs created in the last three years were low paying.
But fast food workers aren't just young people looking to earn some extra cash. Nearly 40 percent are 25 or older, more than one-quarter are raising a child and 31 percent have at least some college education.
So as a result, fast food's low wages end up costing taxpayers billions every year.

Infographic by Alissa Scheller for the Huffington Post
As workers struggle to afford childcare, work multiple jobs and in some cases go to work sick, their CEOs are enjoying generous salaries.
McDonald's former CEO James Skinner made 351 times the pay of an average restaurant worker in 2011, according to an analysis from Bloomberg. The CEO of YUM Brands, the company that owns KFC, Pizza Hut and Taco Bell, made 819 times the average restaurant worker in 2011.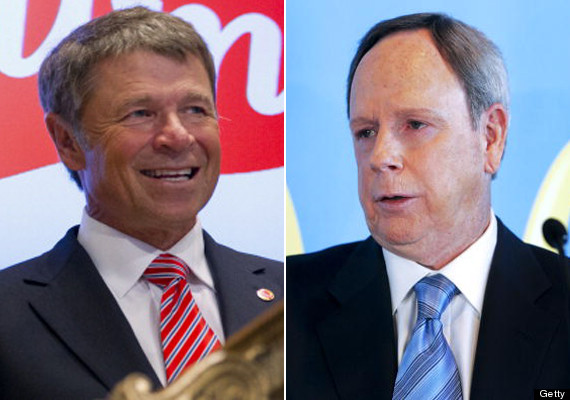 Their companies are still making healthy profit margins (and spending it on things like corporate jets).
So there you have it. Hopefully now you have a better idea of why fast food workers in about 100 American cities plan to walk off the job on Thursday. Protesters are calling for $15 an hour and the right to organize without fear of retaliation.
POST YOUR OPINION: www.TheOpinionPoll.com
HUFFINGTONPOST.COM
http://www.huffingtonpost.com/2013/12/05/fast-food-workers-strike_n_4379295.html?ref=topbar
Dreamer resigns job in Congress to stop her mom's deportation
January 10 was supposed to be a day of celebration for Erika Andiola. That was the day she accepted an offer to work as an outreach director for Rep. Kyrsten Sinema (D-Ariz.).
But instead, the day turned into a nightmare for the 25-year-old Dreamer and well-known immigration reform activists when Immigration and Customs Enforcement officers raided her Arizona home at night and arrested her mother, Guadalupe Arreola, and brother, Heriberto Andiola Arreola.
"At that point, I thought it was my fault," Andiola said of the arrests of her family members. "I thought it was my fault because I had come out so many times saying I was undocumented in front of the cameras and in Congress — everywhere."
But Andiola put her guilt aside and quickly jumped into action. She reached out to every member of Congress and White House staff member she had ever met and asked them to help stop the deportation of her mother and brother. She created a video, pleading others to call ICE and ask for her family members to be released.
Her work paid off. In less than 12 hours, her brother was released. As for her mother, she was in chains and on her way to Mexico on a bus when ICE ordered the bus to turn around and release Arreola.
Arreola said it was the "most horrifying experience" she has ever been through.
"They treated me like a criminal, which I'm not," she said.
The 55-year-old mother was fleeing domestic violence when she decided to bring her five children with her to live in Arizona in 1998. They entered the country illegally after she was denied a visa to come in legally.
Upon her release in January, Arreola was granted a one-year deportation reprieve and work authorization. However, she must report back to ICE on Jan. 2 when she will find out whether she'll be allowed to stay in the country or be deported.
Andiola springs into action to stop her mom's deportation
Now, a year after working as a congressional staff member using the work permit she was granted under the Obama administration's Deferred Action for Childhood Arrivals program, Andiola is leaving her job on Capitol Hill. She announced her decision on Wednesday at a press conference held just steps from the U.S. Capitol.
She said she wants to dedicate her time to prevent her mother from being deported. Not only that, she also said she is discouraged by Congress' inaction on immigration reform and feels she can be more effective in fighting to stop her mother's and other undocumented immigrants' deportations outside of Congress.
"After a year that I've been working in Congress, I've learned that Congress is a really hard to place to be," she said. "Congress right now is a place where politics are more important than people."
Andiola insisted that members of Congress are "worried more about the next election" than on working to fix the nation's broken immigration system and to keep families together.
"I cannot be there as a Dreamer who doesn't even have a driver's license because Arizona denied it, who has a mother who could be deported soon and who knows that Congress right now is not doing what it's supposed to be doing to protect my family," she added.
With the help of the Dream Action Coalition, which she co-founded, Andiola plans to spend the next few weeks working on a campaign to stop her mother's deportation. She is encouraging people to visit the website keepustogether.org to sign a petition in support of her mother. The signatures will be handed over to ICE in an effort to show how much support Arreola has from the community.
Andiola and her mother have also been making congressional visits, calling on members of Congress to sign a letter in support of her mother.
Sinema said during Wednesday's press conference that she plans to sign on to the letter as well as make a personal appeal to ICE. The Arizona congresswoman also said Andiola and her mother's situation "is not unique."
"Thousands of families across the country and thousands of families in Arizona face a similar situation every single day because our Congress has failed to take action on immigration reform," she said.
Immigrant families press for action on immigration reform
Andiola and Sinema aren't the only ones who are frustrated with Congress' lack of progress on immigration reform.
Since October, families from various states — including Arizona, New York and Florida — have been pressuring House Speaker John Boehner (R-Ohio) and other House leaders to get the ball rolling on immigration reform.
They've held vigils at Boehner's congressional office, as well as outside his house in Washington, D.C., and in Ohio. They've also attended events where Boehner was scheduled to speak, such as the lighting of the Christmas tree outside the Capitol on Tuesday, to pray for the Ohio congressman to act on immigration reform.
Reyna Montoya, a 23-year-old Dreamer from Arizona, is one of the organizers leading the efforts. She and a group of families traveled 43 hours on a bus from Arizona to Washington, D.C., over the weekend to highlight the urgency of passing immigration reform legislation in order to protect families from deportation. The Arizona families were joined by another group of families from Florida that also traveled by bus to the nation's capital.
Montoya said that on Tuesday morning, she and Andiola bumped into Speaker Boehner in the street near the Capitol. Montoya told the speaker that she and others have been praying for him, to which she said he responded, "I know." She said she tried to shake his hand but he refused to do so.
The encounter came the same day Boehner hired Rebecca Tallent, a longtime advocate of immigration reform, to be part of his policy team. Tallent currently serves as the director of immigration policy at the Bipartisan Policy Center. She also served as chief of staff to Sen. John McCain (R-Ariz.) and played a major role in drafting immigration reform legislation in 2006 and 2007.
Some observers see the move as a sign that the speaker is serious about moving forward on immigration legislation. Meanwhile, immigration reform supporters, like Montoya, also see it as a good sign but stress that they want to see action on immigration reform as soon as possible.
"Right now, the House of Representatives is not acting, and we know that inaction is not the answer," Montoya said during Wednesday's press conference. "We are asking the leadership to do something. If they believe in a step-by-step approach it's ok. They need to show us what they have."
VOXXI.COM
http://voxxi.com/2013/12/04/dreamer-resigns-congress-mom-deportation/